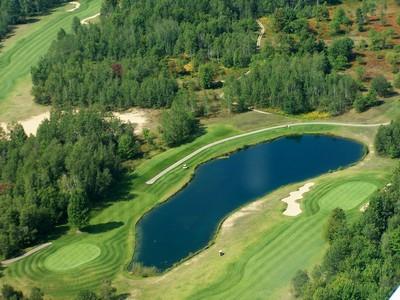 BID IS FOR THE TOTAL PRICE OF THE PROPERTY.
RE-LISTED DUE TO NON-PAYING BIDDER.
This 0.36 ACRE TREED BUILDING LOT is located in the beautiful PINE VIEW NO. 1 SUBDIVISION which is part of the approximately 8,000 Acre LAKES OF THE NORTH ASSOCIATION in Antrim County, northern Michigan, 9 miles from downtown Mancelona and 10 miles southwest of Gaylord, a very nice city with all amenities including chain restaurants, Walmart, Department Stores, Home Depot, Lowes, etc. Traverse City is 38 miles to the southwest, gorgeous Mackinac Island is 65 miles northeast, and the Canadian border is about 105 miles away. In addition, OSTEGO LAKE is 9 miles to the east, GRAND TRAVERSE BAY is 25 miles west and LAKE MICHIGAN IS JUST 30 MILES AWAY, while LAKE HAROLD IS JUST 0.60 MILE SOUTHWEST OF THE LOT, within the Association, and GRAYLING STATE FOREST AREA IS ONLY ABOUT 3 MILES FROM THE LOT. In addition, property owners in this Lakes of the North Association enjoy access to the 18 hole DEER RUN GOLF COURSE, 2 Lakes, a new CLUBHOUSE with an indoor pool, game room, tennis courts and lounge area, the Settings Restaurant, 3 playgrounds, a Campers Village with 160 campsites serviced by electricity and with access to fire pits, 2 bath houses, storage facilities, etc. There's also a WINTER SPORTS AREA with an ice skating rink, snowmobile trails and cross-country skiing trails, and enjoy volleyball, basketball, picnic areas, beaches, boating, swimming, jet skiing, fishing and numerous other recreational activities. There's even horse stables within the Association for guided horse rides, etc., as well as an AIRPORT with a 4,350' asphalt runway. There is ELECTRICITY available throughout the subdivision.

The lot has 62.42 FEET OF ROAD FRONTAGE along Pinehurst Drive, 10.5 miles west of Interstate 75. Zoning is Single-Family Residential, and there are several homes in the immediate area of this lot, as shown by the aerial photos. The property is 62.42' x 218.14' x 84.27' x 204.85' in size (15,512 +/- Square Feet).


The Property Owners Association has an Architectural Control Committee to ensure higher quality homes are built in the subdivision (no mobiles homes or trailers allowed).

The Legal Description is as follows: Township of Star, County of Antrim, PLAT OF PINE VIEW NO. 1 LOT 38; Property Number 05-13-325-038-00.

The GPS COORDINATES for the approximate location of the property are as follows:
LATITUDE: 44°57'15.25"N

LONGITUDE: 84°53'23.80"W
Property Taxes are approximately $23 per year and they are PAID CURRENT. There are currently Property Owners Association Dues of $250 per year but they are increasing to $332 effective April 1, 2018 (If an owner owns more than one lot, however, the Dues are reduced to $166 per year for each additional lot after the first lot). There is $254 in Association Dues owing through the remainder of the current fiscal year ending March 31, 2018, and they shall be the responsibility of the Buyer. There are no liens and title is clear. A Document Fee of $299 will be added to the winning bid. Within 4 days of the auction's close the high bidder shall submit payment by money order, cashier's check or wire transfer. Immediately upon receipt of payment, Seller will mail the Buyer the Deed and maps for the property, along with simple written instructions for recording the Deed by mail and a check payable to the County for the recording fee. BID WITH CONFIDENCE as we have an excellent feedback rating.